PP Bottle IV Solution Production Line
Product Detail
Product Tags
PP Bottle IV Solution Production Line
Preform/Hanger Injection machine
+ Bottle blowing machine
+ Washing-Filling-Sealing machine 
Automatic PP bottle IV solution production line includes 3 set equipment, Preform/Hanger Injection machine, Bottle blowing machine, Washing-Filling-Sealing machine. The production line has the feature of automatic, humanized and intelligent with stable performance and quick and simple maintenance. High production efficiency and low production cost, with high quality product which is the best choice for IV solution plastic bottle.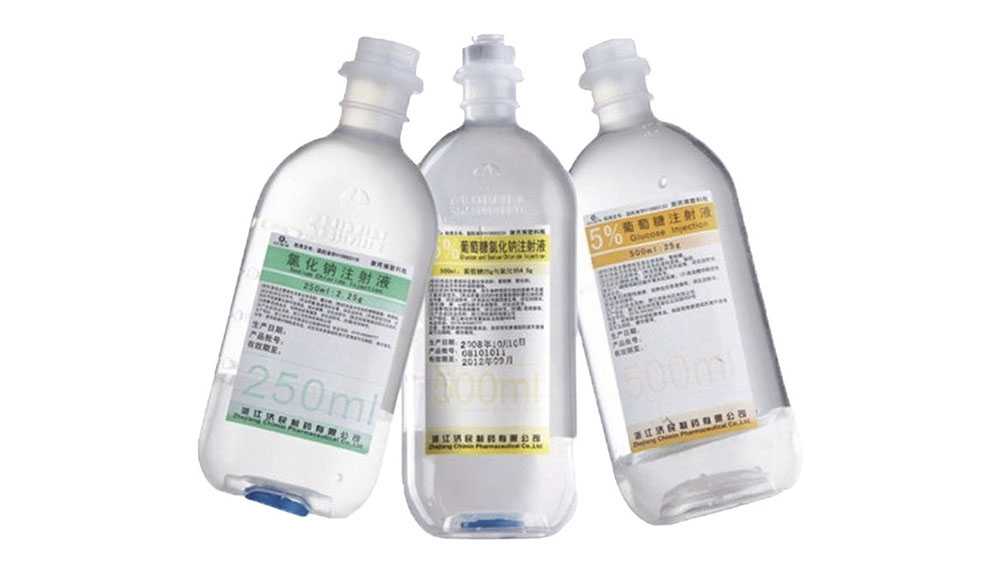 PP bottle blowing machine
Step 1
Preform loading station:
Plenty of preforms are put into the hopper, then the rotary preforms feeding system convey preforms through hoisting conveyor. Independent horizontal splitting preform controlled interval screw preform loading.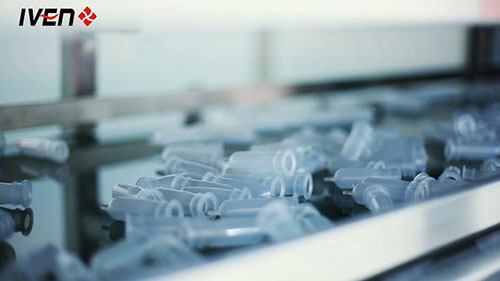 Step 2
Separate arranging, rotation, equidistance screw arranging mechanism for preform:
The preforms are divided with equal distance and transmitted to vertical rotary disk, then rotated by 180 degree and move to another horizontal preforms arranging disk. No preform blockage and no deviation with accurate position.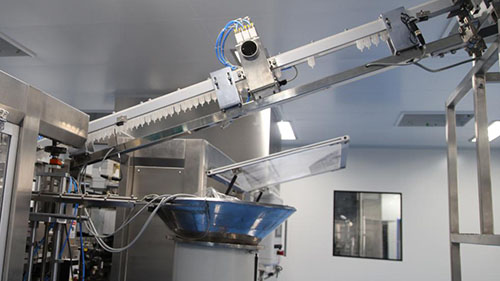 Step 3
Preform heating:
Double row heating light box design, good heat dissipation, easy replacement and maintenance.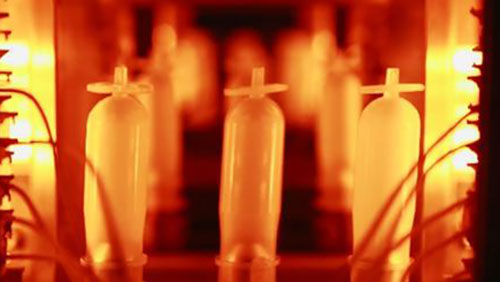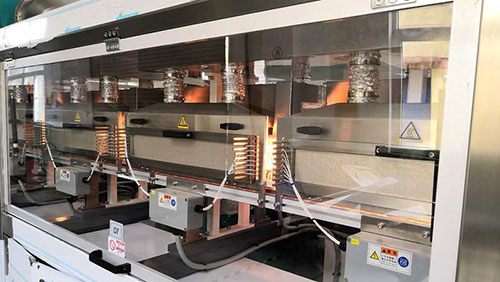 Step 4
Preform taking, preform and bottle transmission mechanism:
Servo open type servo flexible transmission, the cam clamping fingers without plastic scrap and powder to ensure product quality.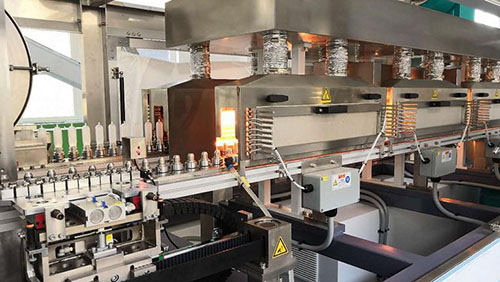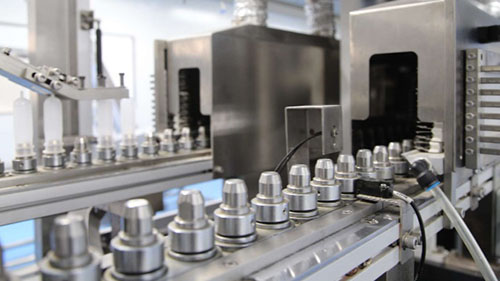 Step 5
Independent sealing and stretching mechanism:
It adopts separate sealing unit design, which don't interfere with each other. Good sealing to blow the bottle, no leakage. Stretching rod is driven by one servo system.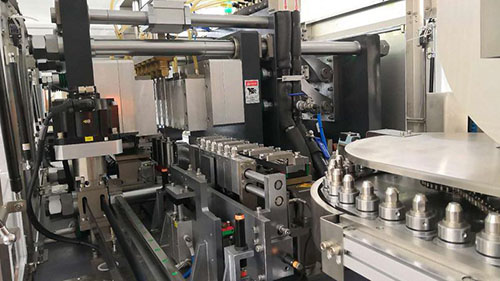 Step 6
Mould opening and closing mechanism:
When preforms are transmitted to bottle blowing station, servo system drives swing arm to push the hinge for opening and closing movement to achieve bilateral activity.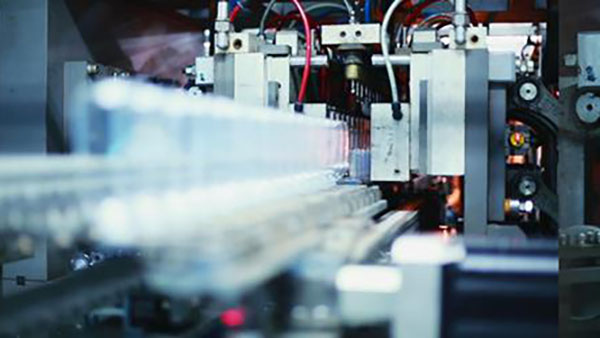 Step 7
Connecting mechanism:
The finished bottles are taken out from bottle blowing station. The manipulators of connecting mechanism pick them up and transmit to Wash-fill-seal machine manipulator to realize auto connection production.
1.Servo drive and stable during high-speed movement, the positioning is accurate, durable, and the maintenance cost is low.
2.The cam clamping fingers without plastic scrap and powder to ensure product quality.
3.High production capacity: range from 4000-15000bottles per hour.
4.Closed integral chain structure, precise center distance, rings and other foreign objects cannot enter the chain, easy maintenance.
5.The sealing does not air leak, improve the blowing efficiency, shorten the bottle forming time.
Technical Specifications:
Item 
Machine model
CPS4
CPS6
CPS8
CPS10
CPS12
Production capacity
500ml
4000BPH
6000BPH
8000BPH
10000BPH
12000BPH
Max bottle height
mm
240
230
Max preform height(with neck)
mm
120
95
Compressed air (m³/min)
8-10bar
3
3
4.2
4.2
4.5
20bar
2.5
2.5
4.5
6.0
10-12
Chilled Water(m³/h)
10°C(pressure: 3.5-4bar)8HP
4
4
7.87
7.87
8-10
Cooling Water
25°C(pressure: 2.5-3bar)
6
10
8
8
8-10
Weight
T
7.5
11
13.5
14
15
Machine size(with Preform loading)
(L×W×H)(MM)
6500*4300*3500
8892*4800*3400
9450*4337*3400
10730x4337x3400
12960×5477×3715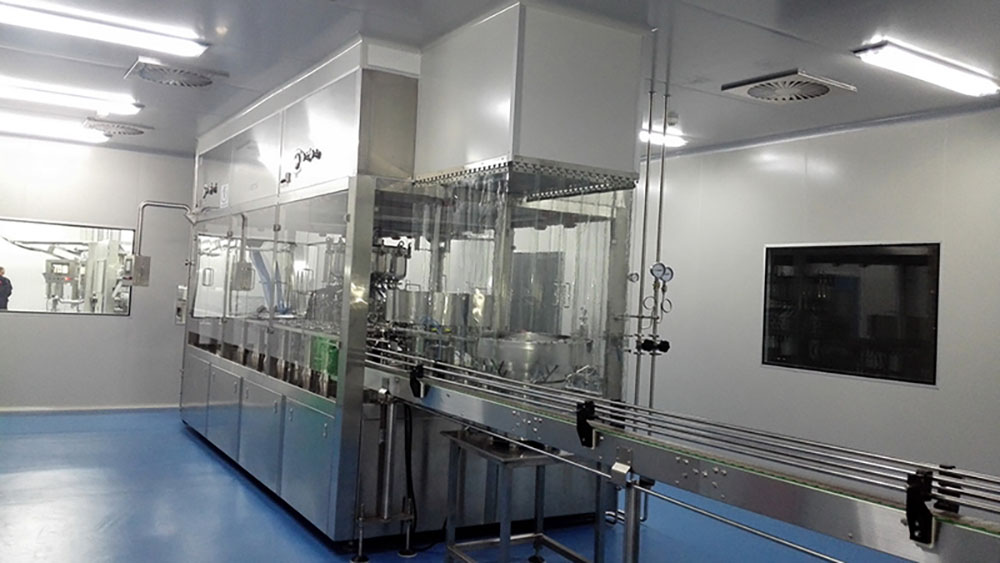 PP Bottle Washing-filling-sealing Machine
Step 1
Bottle feeding station
It adopts direct link between conveying track and bottle feeding dial wheel, clamps the bottleneck to convey, with clean compressed air to accelerate the delivering, no scratching.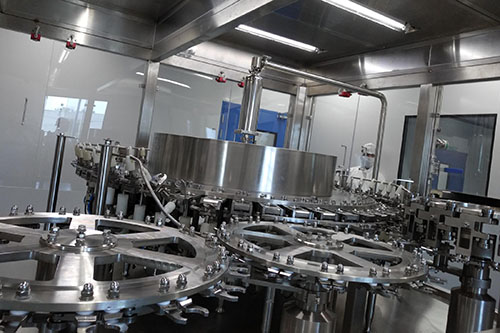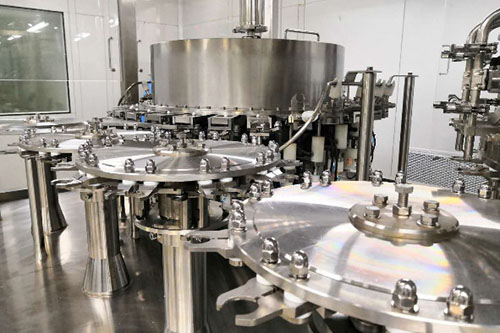 Step 2
Bottle ionic air washing station
The cleaning principle and process are: overturn the bottle; the suction pipe rises the cam to cover the bottle mouth; the ionic air pipe also rises to the bottle with the cam; the compressed air is blown into the blowing pipe to clean the bottle in the bottle;
And simultaneously suck the particles entrained in the airflow out of the bottle.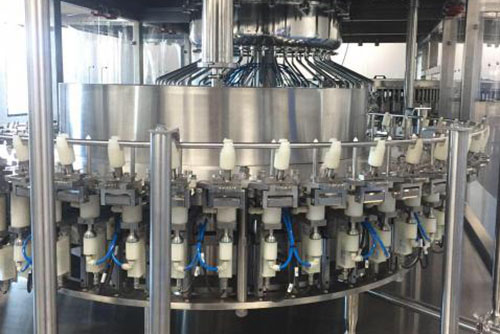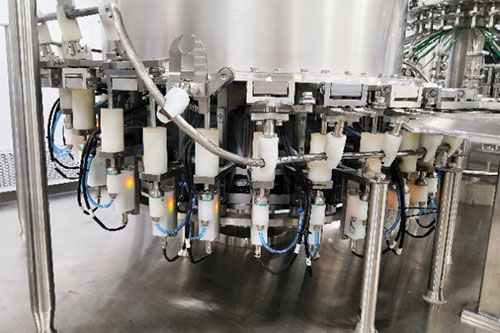 Step 3
Filling station
The washed plastic bottles are conveyed to filling station by manipulator, the filling nozzle trace plastic bottles for filling. The upper part of filling station is equipped with a constant-pressure liquid balance tank. When the liquid fills the balance tank and reaches to the setting level, the liquid feeding pneumatic diaphragm valve close.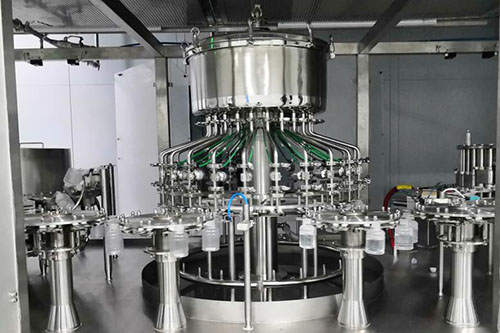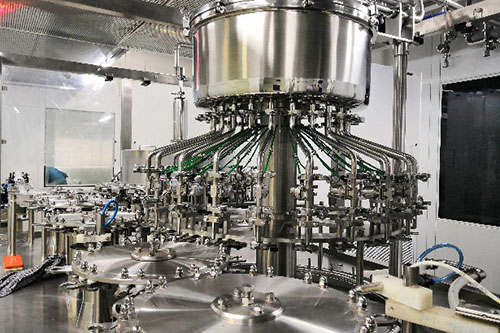 Step 4
Hot melting sealing station
This station is mainly used to weld-sealing the cap of plastic infusion bottle after filling. It adopts double heating plates to heat caps and bottle ports separately, finish weld-sealing in non-contact hot-melt type. The heating temperature and time is adjustable.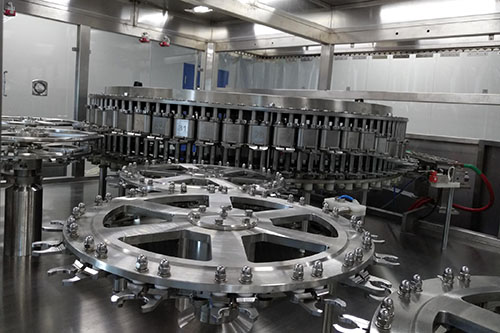 Step 5
Bottle outfeeding station
The sealed bottles are conveyed to bottle outputting track through bottle outputting station, and enter into the next process.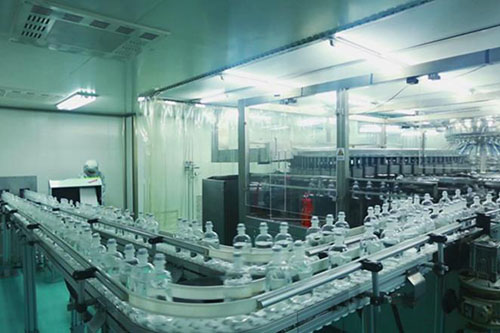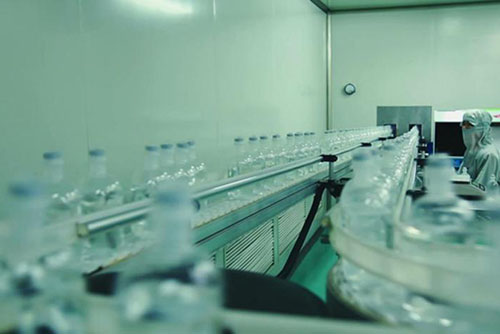 1.With precise filling; accurate air discharging, can control the degree of deformation of the bottle after sterilization.
2.No bottle no filling, no bottle no capping.
3.It can reach capacities up to15,000BPH, depending on the customer request.
4.There are different types of caps which can be applied on the final bottle: Sealed Euro cap; Sealed Irrigation cap; Screw cap; Stopper and Aluminum cap.
5.It has a complete GMP-compliant cleaning and sterilization function.
Technical Specifications:
Item
Machine model
XGF(Q)/30/24/24
XGF30/30/24/24
XGF(Q)/36/30/36
XGF(Q)/50/40/56
Production capacity
100ml
7000BPH
7000BPH
9000BPH
14000BPH
500ml
6000BPH
6000BPH
7200BPH
12000BPH
Applicable bottle size
ml
50/100/250/500/1000
Air consumption
0.5-0.7Mpa
3m3/min
3m3/min
3m3/min
4-6m3/min
WFI consumption
0.2-0.25Mpa
1-1.5m3/h
Machine weight
T
6
6.5
7
9
Machine size
mm
4.3*2.1*2.2
5.76*2.1*2.2
4.47*1.9*2.2
6.6*3.3*2.2
Power consumption
Main motor
4
4
4
4
Capping oscillator
0.5
0.5

0.5

0.5*2
Ionic air
0.25*6
0.25*5

0.25*6

0.25*9
Conveyor motor
0.37*2
0.37*2

0.37*2

0.37*3
Heating plate
6*2
6*2

6*2

8*3
1.It can meet production of different size (100-1000ml).
2.It applied for both Standard PP bottle and Self-collapsed soft PP bottle.
3.Apply to different container shapes: round, oval, irregular, etc.
4.High production capacity: range from 4000-15000bottles per hour.
5.The wasted raw material for the production of one 500 ml PP bottle is equal to 0%.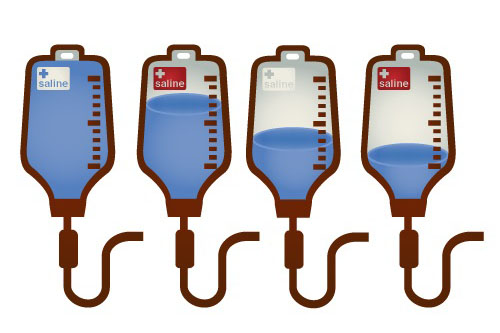 ---
Previous:
Ampoule Filling Production Line
---
Send your message to us:
Write your message here and send it to us